RHS Brag Board
skip over carousel
RHS Brag Board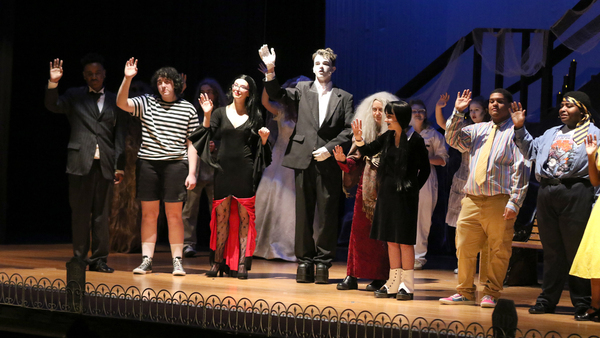 RHS Drama Society's "The Addams Family"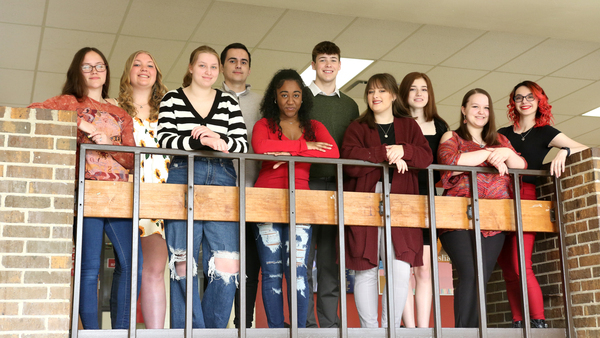 RHS 2023 Top Ten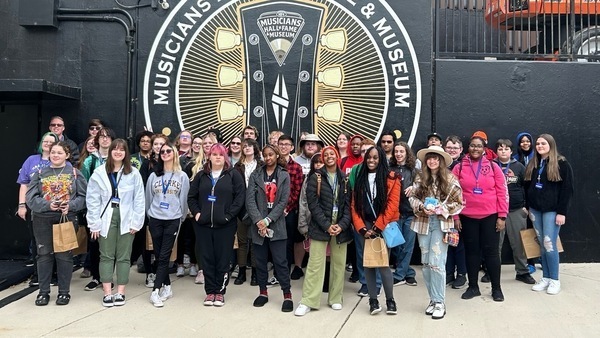 RHS Band in Nashville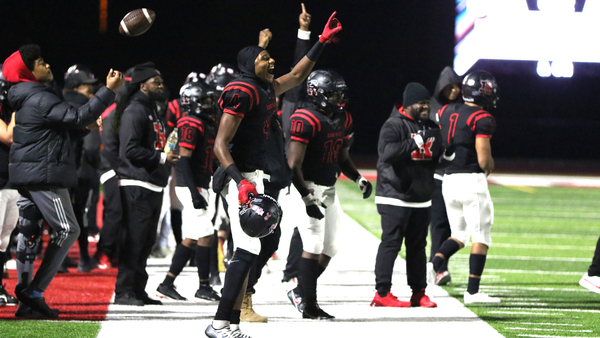 RHS Playoff Win vs Cousino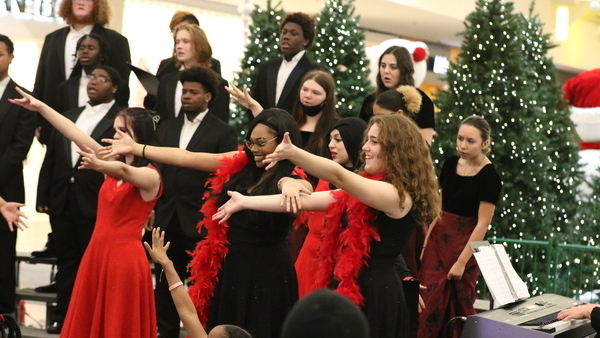 RHS Choir at Macomb Mall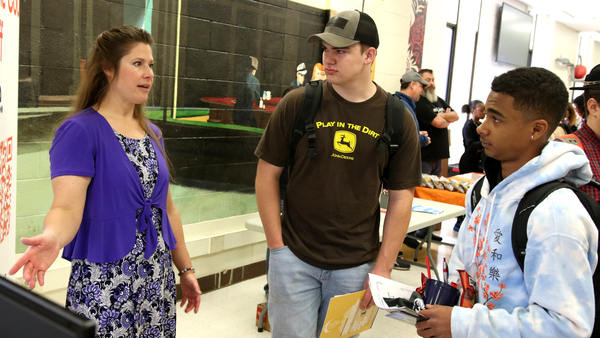 RHS Career Day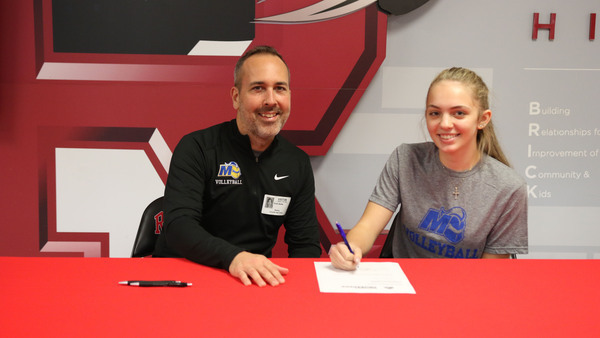 Grace Patterson signing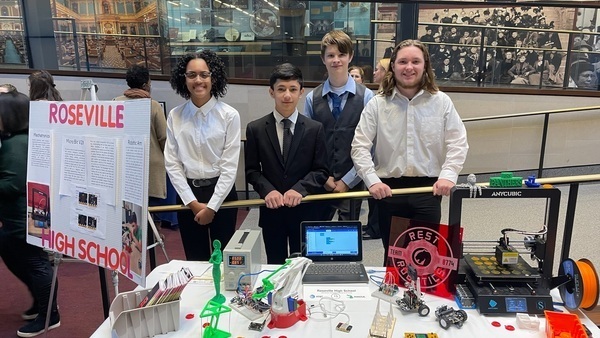 REST Club at State Capitol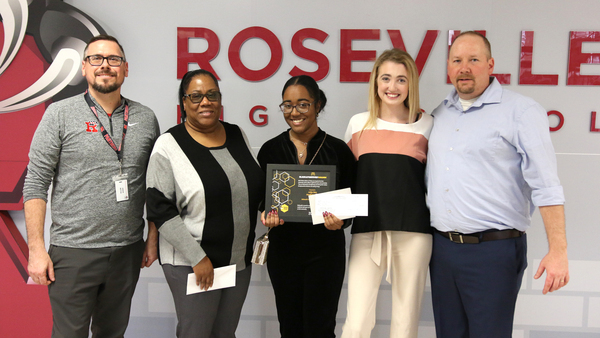 LaKiya Reese Scholarship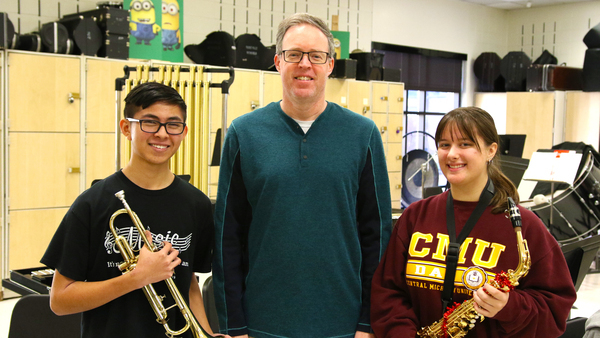 Mr. Chesher and State band students
Several RHS Jazz Band members performed at the MSBOA District 16 Honors Band performance on April 18. These students - Daniel Duhaylonsod, Katelynn Miller, and Jessica Olinger - were nominated by their band teacher, and then selected by a committee of music educators from MSBOA that reviewed nominations from over 40 schools in the area. You can watch the performance here: High School Jazz All-Stars Performance
On April 11, Roseville High School held their annual Jazz Night, featuring performances by the RHS Jazz Ensemble, the RHS Jazz Band, and special guest Dwight Adams. You can watch the performance here: RHS Jazz Night 2023
On April 21 and 22, the RHS Drama Society presented The Addams Family, held in the RMS Seraphime Mike Auditorium. The student actors worked so hard, and it showed in their great performance.
Congratulations to Roseville High School's top ten students for the 2022-2023 school year: Austin Barnett (Co-Valedictorian), LaKiya Reese (Co-Valedictorian), Paige Tomala (Salutatorian), Neveah Duerksen, Julia Fetty, Sydney Masterson, Katelynn Miller, Jessica Olinger, Eduard Telychkan, and Drewann Widen.
Congratulations to Jay'Den Williams on his second-place finish at the state wrestling tournament in early March. As a freshman, Jay'Den finished the season with an impressive 47-2 overall record.
In late March, students from the RHS bands took a trip to Nashville. Students and chaperones traveled through four states, visited the Lost River Cave Tour in Kentucky, had dinner at the Santa Fe Cattle Company, and took a guided walking tour of downtown Nashville. They also visited the Nashville Zoo, the Musicians Hall of Fame, Madame Tussaud's Wax Museum, and caught a live show at The Grand Ole Opry.
Congratulations to the REST Robotics team who participated in the FIRST Detroit District event in mid-March. The team finished in 9th place out of 40 teams. Thank you to the REST sponsors Suburban Bolt & Supply, Brose North America, the RHS Booster Club, and the Argosy Foundation.
Congratulations to the RHS Symphonic Choir for receiving a "1" rating in early March at the district level choral festival. All four judges gave the performance a nearly perfect score and said that Roseville has never sounded better!
The RHS Auto Shop received a donation of a 1957 Oldsmobile Super '88 as a project car for the program.
Congratulations to RHS teacher Dan Chesher, who was named the RCS High School Teacher of the Year in March. You can read about him here: Roseville Community Schools Announces 2022/2023 Teachers of the Year
RHS Senior LaKiya Reese was featured on WDIV Channel 4 as one of 12 recipients of a $1,000 scholarship from McDonald's as part of their "Black and Positively Golden" Youth Leadership and scholarship program. You can watch the video here: These Young Leaders Will Inspire You
The RHS swim team collected some hardware at the MAC Silver meet in late February. Trenton Buckbee, Billy Scheinpflug, Parker Kinsora, Austin Barnett, Julia Puckett, Matthew Bowman, Chris Scheinpflug, Brian Hopkins, Elise Birr, Sorin McGrath and Matthew Bowman all earned medals. As a team, RHS took second in the MAC Silver and received the Sportsmanship award for the 2022-2023 season.
The RHS Jazz Band received the second runner-up for Outstanding Band Award at the Central Michigan University's 50th Annual Jazz Weekend Festival on February 10th, with Howard White Jr. also earning the Second Runner-Up for Outstanding Soloist Award.
RHS Band Students attended MSBOA District Solo and Ensemble Festival on February 4, with soloists Jessica Olinger, Katelynn Miller, Daniel Duhaylonsod, Isaiah Williams, and Justine Brun earning First Division Ratings. Ensembles that earned First Division Ratings included Jade Sanders, Rashawna Lewis, Isaiah Williams, Daniel Duhaylonsod, and Katelynn Miller. Alexis Wolgast earned a second Division Rating as a soloist, and Zacarias Osorio and Isaiah Williams earned a second division rating as an ensemble.
Congratulations to Dezzmon Meriwether and Elijah Baker who signed their letters of intent to play sports at the collegiate level this fall! Meriweather will be attending Davenport University to play football and wrestle and Baker will be attending Grand Valley State University to play football. The RHS Girls' basketball team had the opportunity to play at Little Caesars Arena on February 6, beating Center Line. RHS Freshman Jay'Den Williams wrestled his way to a Regional Championship in the 144lb weight class. He will continue his quest for a state championship in March.
Senior LaKiya Reese was selected as a recipient of the McDonald's Black History Makers of Today Scholarship. She will be featured on WDIV on February 8 along with twelve other student recipients from the Metro Detroit region.
Congratulations to three more Panthers who signed their letter of intent to play sports at the collegiate level. Paige Guinn will be playing softball at Schoolcraft College, Dezzmon Meriweather will be attending Davenport University to play football and wrestle, and Elijah Baker will be attending Grand Valley State University to play football.
At the annual Choir Solo Ensemble Competition, RHS had 12 students compete in ten separate events. Congrats to Alana Allen, Kendall Cannon, Devin Newsom, Julian Ford, Oliver Loftis, Paige Tomala, Adrian Harris, Amelia Griffin, and Fred Duhaylonsod, who all qualified for states.
Congratulations to Katelynn Miller and Daniel Duhaylonsod for being selected to perform with the Michigan All-State Band and Orchestra. The pair performed at the Annual Michigan Music Conference in Grand Rapids on Saturday, January 21.
Congratulations to the following band students who were named to various Honors Bands in November. Michigan All-State Band:

Kateylnn

Miller and Daniel

Duhaylonsod

. Oakland Honors Band: Nathan Donaldson, Daniel

Duhaylonsod

, and Matthew

Skoczylas

. Olivet College Honors Band: Daniel

Duhaylonsod

,

Katelynn

Miller, and

Kaylee

Nagorny

. Eastern Michigan University Honors Band: Daniel

Duhaylonsod

,

Katelynn

Miller, and

Leilani

Duhaylonsod

. Central Michigan University Honors Band: Daniel

Duhaylonsod

.

MSBOA

District XVI Honors Band: Alexis

Wolgast

,

Leilani

Duhaylonsod

, Daniel

Duhaylonsod

,

Katelynn

Miller, Nathan Donaldson, and Vaughn

Rottiers

.

RHS

Hospitality Management students carved pumpkins as a project for Halloween and then donated all of them to our American House East Residents in Roseville. Additionally, they made cookies as a project for Veterans Day and delivered them to the Veterans Day Ceremony at the Fraser VFW.

RHS

REST team members Paige

Armbrister

, Sumner Hull, Luis Gomez-

Veloz

, and Colton Masterson presented on December 7 at the Student Technology Showcase at the Capital Building in Lansing. They demonstrated 3D printing technology and vision sensing in robotic vehicles to a variety of interested parties. They met Lt. Gov Gilchrist and were recognized on the floor of the House as special guests by Representative Richard

Steenland

.

RHS

Choir students helped bring holiday cheer to patrons of Macomb Mall, performing several songs on December 16.
On National Signing Day in late December,

RHS

senior

Amare

Snowden

announced his decision to continue his football career at the University of Wisconsin next fall.
A chilly night could not dampen the spirits of the annual homecoming festivities, including a great parade, a big 47-12 win over

L'Anse

Creuse, and the crowning of 2022 Homecoming King & Queen Leonard Curry &

Aaniya

Jordan.
In early October, 25

RHS

students participated in the annual MFG Day, touring

Eifel

Mold and Engineering in Fraser.
The Panthers varsity football team defeated

Cousino

49-7 in the first round of the playoffs on October 28.

RHS

Hospitality Management students carved pumpkins for Halloween. Finished pumpkins were delivered to American House Senior Living Complex for residents to enjoy. Additionally, they made and delivered cookies to Roseville Police and Fire Departments for National First Responders Day on October 28.
On October 27, Roseville High School hosted their second annual fall Career Day. Representatives from nearly forty businesses spoke with

RHS

juniors and seniors about career opportunities in a wide variety of fields. Business guests also met staff members and toured the

RHS

Career Tech facilities.
Congratulations to

RHS

senior Grace Patterson who signed her letter of intent to play volleyball at Madonna University next year.
Two Roseville High School seniors received honors in September. LaKiya Reese received the National African American Recognition Award (NAARA) from the College Board and Paige Tomala was named the Roseville Student of the Year for the 2022 Eastpointe-Roseville Salute to Excellence Awards.
The RHS Building Trades program completed construction on their latest house in the fall. The house was built over the course of the last three years, delayed a year due to COVID. The 1900 square foot house includes four bedrooms, 2.5 bathrooms, a full basement, and an attached garage. The house sold in September for $284,000. The money from the sale of the house goes back onto the program. It is the ninth house built by the Building Trades program on Guest Court.
Desmond Straughton was named MLive's High School Football Player of the Week for week three of the season.
Several RHS teachers had their projects funded through DonorsChoose: Mrs. Houghton's "Spotlighting Black Voices," Mr. Smitka's "Making Ideas into Reality – 3D Printing in The Classroom," Mrs. Bond's "Hot Rewards for Math," and Ms. Stanley's "TheFam Classroom Needs" were all fully funded through the program.