RCS Scholarship Foundation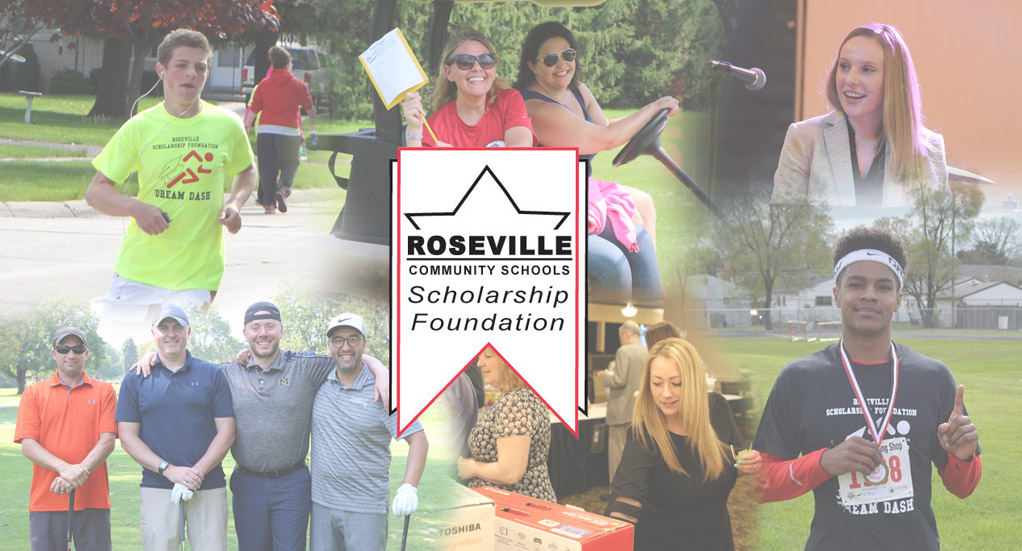 The Roseville Community Schools Scholarship Foundation began with a dream and a goal when it was established by the Roseville Kiwanis Club in 1963. The dream was to touch the lives of Roseville's young people; the goal was to raise funds to help them continue their education after high school.
In 1984, the Roseville Board of Education joined the ongoing project. Today, citizen volunteers, educators, business representatives and local leaders assist in the process of raising funds and allocating scholarships to deserving recipients.
This year we awarded 39 scholarships at $1,000 each.
Funds for scholarships are raised through memorial and honorary donations, membership dues, the annual dinner dance, golf outing and the Joe Manfreda Dream Dash 5K event.
The scholarships process is designed to help graduating seniors of Roseville Community Schools who express an interest in higher learning. Potential candidates must maintain a minimum grade point average of 2.0.
Applications are available in the Roseville High School Counseling Office throughout the year and must be returned by the specified due date.
The application must include letters of recommendations and the student's personal statement.
Awards are presented on a one-time basis. The identity of an applicant is anonymous during the selection process.
Financial need is considered in the event of a tie-breaking situation. Scholarships are presented to the student after documentation of enrollment is submitted.
Thank you to our 2021 Joe
Manfreda

Dream Dash Sponsors and Donors
RCSSF

Heroes

RHS Panther Den

DeFelice Family
RCSSF

Helpers

Roseville Federation of Teachers

Highway Auto Parts
RCSSF

Friends

Patton Elementary

Eastland Middle School

Roseville Principals Association

Roseville Federation of School Administrators

Freers, Freers & Freers

Kaiser Elementary

Huron Park Elementary

Fountain Elementary

Roseville Optimist Club

Great Skate

Shiemke Family
RCSSF

Donors

Richard & Dolores Weinman

Colleen & Matt McCartney

Joanne Logghe

Harold Haugh

Steven Hall

Sharlene Hall
THANK YOU TO OUR 2021 SCHOLARSHIP EVENT SPONSORS
Platinum Sponsorship
Barton Malow Builders
Debra Wangrud - In Memory of Ron Wangrud
Partners in Architecture
Roseville High School Booster Club
Roseville Middle School Staff
Roseville Optimist Club
The Steenland Family – In Memory of Joe & Darlene Steenland
Steenland Elementary Staff & PTO
TMR & Associates, Inc.
Bill & Shannon Wojcik
Gold Sponsorship
Eastland Middle School
JJ Mich, Inc.
Macomb Mall
Plante Moran
Promethean World
Becky Vasil, Retired, Roseville Community Schools
Silver Sponsorship
Gina Aiuto, Board of Education
Paul & Donna Ambrose
Mike & Jill Antoine
Rayetta Ashbaugh
Michael Batke
The Bettin Family
Mark & Tamela Blaszkowski
Lawrence & Andrea Burns
Chris & Mandy Cloutier
Mike DeVault, Superintendent, MISD
Dinning & Greve, P.L.C.
Chuck & Jackie Felker
Joe Oram, Five Star Outdoor Media, LLC
Kevin & Monica Gabriel
Linda Geise, Retired, Roseville Community Schools
Theresa & Joe Genest, Board of Education
Tom & Cathy Guswiler
JKM Benefits, Jerry & Kim Maisano
Judy Hartwell
Harold & Cathy Haugh
Sharon Holmes
John Kment
Brandon Komarowski
Mike & Sue LaFeve
Jannis Litz
Metro Controls, Inc.
Mr. & Mrs. Seraphime Mike
Jacob & Natashia Mowinski
Martha O'Kray
Rick Osos, Realty Executives Home Towne
Cindy Peters
Jeanne Petersen
Nicole Provo
Mark & Kim Renshaw
Roseville Jr. Sports
Roseville Principals' Association
Paul Schummer
Janet Shishakly
Bill Shoemaker, City Councilman
Michael Switalski, City Treasurer
Judge Kathleen Tocco, 39th District Court
Teresa Tomala
Robert Varconie
Steve & Joan Vercammen
Steve Wietecha, City Councilman
Michelle Williams-Ward, Board of Education
Mike & Erin Zimmer, Roseville Community Schools

Bronze Sponsorship
Pat Adams
Anonymous
Oscar Frangquist
Kate Frikken
Joe & Leslie Genest
Shannon Glancy
Jennifer Goetzinger
Chris LaFeve
Keith Marzec
Patton PTO & Staff
Dave Rice
Donna Russell
Mark Schwartz
Kelly Torpey
Jeanne Williams
Amy Yee
Jennifer Zelmanski, City Clerk
Friend of the Foundation
Melissa Cohen
Carrie Davis
Kathleen Dworman
Shirly Markulin
Mary Ann Pilette
Raymond DeSteiger, Inc., Ray Electric
Roseville Historical & Genealogical Society
2021-2022 IMPORTANT DATES
February 26 - RCCSF Dinner/Dance
May 7 - Joe Manfreda Dream Dash
September 17 - Scholarship Golf Outing