April 18, 2023
NEWS RELEASE: Roseville Community Schools Adds STEAM Courses to Middle School Curriculum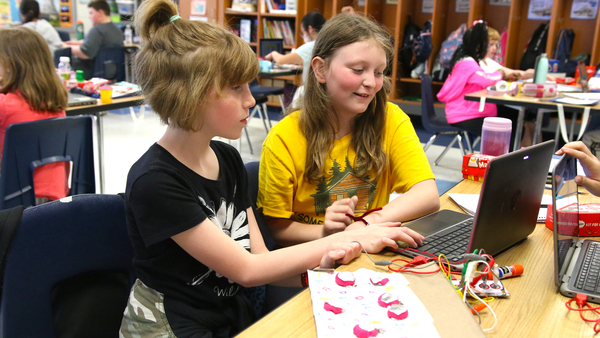 Roseville Community Schools will be bolstering their course offerings at Roseville Middle School and Eastland Middle School beginning in the fall of 2023, adding four new STEAM (Science, Technology, Engineering, Arts, Math) classes to their roster. These new courses, which will focus on science, technology, engineering, the arts, and math, will be Project STEAM, Introduction to Robotics, Remotely Operated Vehicles, and Media Applications.
Project STEAM: An introductory course for sixth grade students. The class will investigate scientific concepts through project-related activities that students create, design, and build. The course promotes group learning and positive attitudes toward science and technology.
Introduction to Robotics: Offered to students in 7th and 8th grade, the course is geared towards student development towards an understanding of design, prototyping, and team problem solving. Students will participate in a series of project builds to compete in challenges against rival teams. Students will utilize engineering kits, 3D printing, and coding during this introductory course. Students will develop skills in critical thinking, communicating, collaboration, and creativity.
Remotely Operated Vehicles: This course, offered to 7th and 8th grade students, will focus on the engineering design process and collaboration in the production of remotely operated vehicles. Students will brainstorm, prototype, and communicate their processes to create their vehicles. This student-driven class will cultivate a culture of collaboration, communication, critical thinking, and creativity.
Media Applications: Offered to 7th and 8th grade students interested in media arts such as video announcements, student newspaper, and school yearbook. In this class, students will learn how to broadcast video announcements to the school, publish a student newspaper several times during the school year, and contribute to the school's yearbook. Students will learn the importance of meeting deadlines, working in groups, and being able to work independently.
Assistant Superintendent Dave Rice said that through the creation of the district's strategic plan, staff began identifying areas throughout K-12 where STEAM offerings could be added. "The elementary schools and high school have progressed more in the past year than the middle schools, so we felt it was important not to have a gap for students who are interested in this area." He said that while the middle schools already have coding classes, these are the first hands-on STEAM classes that will be offered. "Courses like these provide students the chance to discover an interest in engineering and math, and a head start in a growing number of opportunities that can be found in these areas at the high school level."
Roseville Middle School Assistant Principal Eric Gauthier said that these courses are designed to focus on critical thinking, communication skills, problem solving, perseverance, collaboration, digital literacy, and technology skills. "The courses were designed to align with current and future high school offerings and each of these courses will focus on the engineering design process and 21st century skills."
#####