Principal's Welcome - RMS
Dear Roseville Middle School Families,
I would like to take this opportunity to introduce myself as the principal at Roseville Middle School. I want to thank you for taking the time to look at our webpage and learn about what being a Wildcat is all about. The staff at RMS is eager to work with you and your children. Know that we strive for excellence in the classroom and will push our students to instill values that lead to success in school and life. Our goal is to ensure that all students become critical thinkers, dynamic problem-solvers, probing readers, careful researchers, creative writers, active participants in all aspects of school to prepare to be future leaders. We do all of this to prepare our students to meet the demands of the real-world and we look forward to working in partnership with you this year.
In addition to building strong relationships with all of you, it is important to me that your children, Roseville Middle's students, benefit from this partnership. I encourage students and parents to have discussions on a daily basis about what is happening in school, what they learned that day, and what the objectives were in class. These are conversations our teachers will be having with students every day.
If you ever have a concern or question, please do not hesitate to call or email me. Please understand that my primary responsibility during the school day is to be observing teaching and learning to help ensure the success of all students, and I may not always be immediately available. Know that it is my personal policy to return all messages within 24 hours.
Go Wildcats,
Jason Bettin
Principal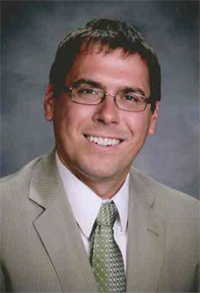 Jason Bettin
Principal